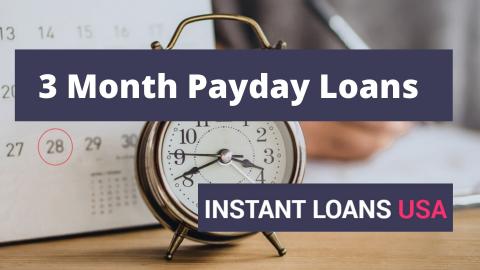 Payday loans have the distinct advantage of versatility and ease of access. They act as a lifesaver for many situations for many people all across the globe. With a growing number of financial institutions willing to hand out payday loans without a credit check, it is no wonder that payday loans are growing in popularity.
Instant Cash Loans
Payday loans fall in the category of short term personal loans. So they come with a limited time frame. However, it can differ from one financial institution to the other.
What are the dynamics of payday loans and a three-month payday loan in particular? We find out in this post.
How do instant 3-month payday loans work?
Payday loans are unsecured short term loans that are available for those who are in need of cash. If you want a payday loan, you will be required to repay it within a specified time that is stated in the agreement during the time of securing the loan.
The loan application for this type of personal loan typically gets approved almost instantly. Most lenders also have a next business day deposit policy, which means you get the money in your bank account within 24 hours.
Since payday loans are short term, they come with relatively short repayment terms. A typical payday loan has a lifespan till the next time the borrower gets paid. However, this can differ from one moneylender to the other, as well as from one state to the other. Learn more about the rules of payday loans set by the different states in the US here.
According to a report published in the Pew, payday loans are tied to a borrower's pay cycle, which is about two weeks. Some money lenders and institutions also allow a payday loan to be repaid in 30 days.

But it is also possible to secure a three-month payday loan, which falls under the category of short term installment loans. This type of installment loan can be extended to a year for most money lenders.
Basic Requirements for 3-month payday loans
The requirements for three-month payday loans can differ from one state and one lender to the other. However, the basic ones remain the same. These include:
You must be 18 years or older
A permanent resident or a citizen of the United States
Live in one of the eligible states
You must have an identity card issued by the state
A regular day job or an alternative income source with documents for proof
A bank account that is active. Some lenders also require a routing number.
3-Month Payday Cash Loans pros and cons
Any type of loan comes with its advantages and disadvantages. In this section, we talk about the pros and cons of three-month payday loans.
Pros:
Approval is quick – Most money lenders make an instant decision when it comes to getting your loan approved. This means that you can get a loan on the same day you submit the loan application. At most, you can expect to wait for 24 hours to get the money in your bank account.
Ease of loan application – There are multiple avenues where you can apply for payday loans, Unlike other types of loans, many financial institutions run their business online. So you can apply for the loan in the comfort of your bed.You can also seek out the loan application in person. There are money lenders who have the traditional brick and mortar money lending business.
Versatile use – Some types of loans, such as a car loan or a home, are intended for a specific purpose. This means you cannot use the loan for another purpose without being penalized. But when it comes to a payday loan, you can use the money for any purpose as long as it is within reason. In this case, it has a versatile feature.
Apply with bad credit – In the world of finance, securing a sizable loan without a credit check being performed is quite a revelation. But the fact is, a large number of people find it difficult to maintain decent credit history. So when financial institutions are willing to loan you cash without this requirement, there is a collective sigh of relief. You do, of course, have to show that you have the financial caliber and the resources to repay the loan.
Cons:
There are some drawbacks that come with loans, and payday loans are no exception. They are:
High-interest rates – It is no secret that payday loans come with high-interest rates. On average, payday loans can have an interest rate of 400%, which is staggering. The rate of interest, of course, differs from one lender to the other. It is also greatly affected by the loan amount you borrow.Some states in the US have put a cap of the Annual Percentage Rate for payday loans. But if you don't live in one of these states, you may not be so lucky.
Fixed payments – Similar to all types of loans, three-month payday loans have fixed payment. This includes both time and the loan amount. And since there is no compromise for these components, you can land in trouble if you fail to comply.Another feature that relates to payments is most lenders automatically deduct the money from your checking account. It can lead to increased charges in the form of overdrafts when your bank account is low on funds.
Risk of scammers – The business of money lending is a thriving one. This increases the chance of you running into scammers who can swindle off the little money that you have. To avoid being a victim of scammers, make sure that the lender that you are dealing with is legit and is operating under the laws of the state.
Get the best 3-Month Payday cash advance 
Improve your credit score – Secure longer repayment periods.

Although it is quite possible to secure a short term loan with bad credit, maintaining a good credit score is paramount. This is especially true when your financial future is taken into perspective.
If you have not been able to improve your credit score, here are some practical ways you can practice.
Make timely payments – Your credit score is significantly affected by your payment history. Putting off your payments to the last minute can seem very wise. But credit card companies and bureaus have a different timeline than yours.If you can find out the date your credit card company makes their report to the credit bureaus, it is still better.
Diversify your credit card mix – If you have just one credit card, it is a smart move to get another two or so. Use only one of them and leave the rest active but with a zero balance.
Consolidate your debts into one card – Consolidating the debts into one credit card allows you to focus on clearing your debt quickly. This will leave a positive mark on the lenders and your credit score as well.
The interrelationship between credit score and loan application is more intertwined than we can imagine. But thanks to money lenders, securing loans with bad credit is also a possibility.
Three months payday loans are not as pressing as a two-week loan. But they are also not as burdensome as a long term loan. It has flexibility and versatility and is the probable sweet spot among the different types of loans.